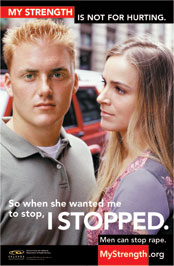 In 2006 Ozarka College was awarded a grant from the Department of Justice to address violence against women on campus.
During 2006 and 2007, the grant has developed new policy for adoption, educated college personnel, provided awareness articles and projects on campus and for the general public and served students by having victim advocates and sheriff deputies available on the Ash Flat and Mountain View sites and the Melbourne campus.
The purpose of this blog is to help institutionalize the efforts of the grant, that ended in July 2008, and to provide a means of advancing Ozarka's initiative to prevent and address violence against any person. This site has much useful information and helpful contacts for both women and men in preventing and addressing violence. Though the deputies and advocates are no longer located on campus, advocacy contacts are available on the Melbourne campus and the Ash Flat and Mountain View sites.